Secure rear car parking
Approximately 100 spaces with access to the building.
Dining area
Seating up to 200 People & secure rear car parking, we offer exceptional cuisine to suit your event and budget. We pride ourselves on a friendly, flexible service backed by years of experience.
We can accommodate; that special wedding reception, anniversary dinner, birthday celebration or other private party. We also cater for business functions, not only for the annual Christmas dinner but corporate events as well.
---
Special Diets are catered for.
---
Front entrance
Inside front entrance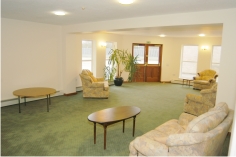 The new extended rear entrance hallway from the rear secure car park
A well stocked Lounge bar open during your event
The Lounge bar room
Before dining, meet your friends in our Lounge bar. Soft drinks are always available.
The Lounge Bar can also be used for after dinner drinks.
We will place your future event at Ellindon Banqueting Suite on this Web site for FREE.
Click here to contact the Web Master